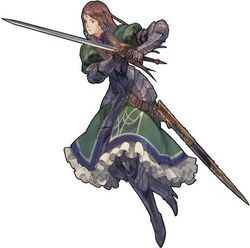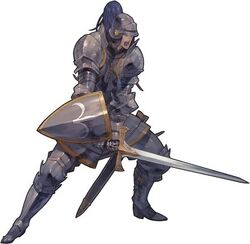 An excellent front-line warrior, able to use healing magic. Nothing stops an enemy advance like a knight in their path. A capable defender and strong attacker.
A hybrid tank-healer class that performs the job of absorbing damage very well. However, since enemies always try to target the weakest unit in reach, they tend not to tank as often as preferred. Phalanx and Rampart Aura are a useful combo, but often fail to protect allies effectively. Using Phalanx almost guarantees the survival of the Knight, but in doing so, directs attention towards your other units, which is the opposite of what you want from a tank. They are a sturdy, but limited support class.
Can be Used by: Human & Skeleton (Note - Undead cannot use any Divine Magic spells in this class).
How to Unlock: Classmarks are sold by general shops from Chapter 2 onward.

Notable Characters

Equipment
Basic Ability
| | | | | |
| --- | --- | --- | --- | --- |
| Move | Jump | RT | Melee | Ranged |
| 4 Agile | 2/3 | 36 | Punch | Cast Stones |
Core Stats
| | | | |
| --- | --- | --- | --- |
| Attribute | Level 1 | Growth Rate | Level 50 |
| HP | 38 | | 297 |
| MP | | | 81 |
| STR | 15 | | 117 |
| VIT | 17 | | 119 |
| DEX | 14 | | 116 |
| AGI | 14 | | 116 |
| AVD | 16 | | 123 |
| INT | 11 | | 113 |
| MND | 14 | | 121 |
| RES | 19 | | 121 |
| ATK | 1 | | 5 |
| DEF | 5 | | 9 |
| | | | | |
| --- | --- | --- | --- | --- |
| Skill | Lvl | SP Cost | TP Use | Notes/Use |
| Divine Magic | 1 | 50 | MP | {Instill, Heal & Hearten} |
| Phalanx | 5 | 150 | 50 | Reduce damage taken by 90% until next attack turn |
| Recruit | 5 | 220 | 40 | Attempt to recruit Human and Winged units |
| Rampart Shadow | 12 | 290 | 75 | Create a shadow of the caster with Rampart Aura |
| Sanctuary Shadow | 16 | 370 | 70 | Create a shadow of the caster with Sanctuary |
| Guardian Force | 20 | 440 | 50 | Redirects 50% of all damage taken by allies within a 2 tile radius to the unit until next attack turn |
Abilities
Edit
| | | | |
| --- | --- | --- | --- |
| Skill | Lvl | SP Cost | Notes/Use |
| Parry | 12 | 240 | Second chance to block melee attacks |
| Deflect | 12 | 240 | Second chance to block ranged attacks |
| Overpower | 20 | 400 | Ignore a target's Parry and Deflect |
| Rampart Aura I-IV | 3/14/25/36 | 50/330/530/710 | 4/8/13/18 tile aura that stops enemy units from advancing past the unit |
| Trajectory | 1 | 50 | Highlights path of ranged attacks |
| Counterattack I-III | 4/13/22 | 120/330/500 | Counter physical attacks at 25/50/75% Normal damage |
| Knockback I-III | 4/13/22 | 90/310/480 | 25/50/75% chance to knock attacked target back one space |
| Strengthen I-IV | 6/17/28/39 | 120/370/560/740 | Increase ATK stat by 10/20/30/40% |
| Fortify I-IV | 3/14/28/36 | 120/370/560/740 | Increase DEF stat by 10/20/30/40% |
| Resistance I-II | 10/22 | 200/440 | Increase RES stat by 10/20% |
| Truestrike I-IV | 4/16/28/40 | 90/370/580/770 | Increase melee accuracy by 10/20/30/40% |
| Trueflight I-III | 7/19/31 | 120/390/600 | Increase ranged accuracy by 10/20/30% |
| Spellstrike I-II | 8/19 | 90/350 | Increase magic accuracy by 10/20% |
| Dodge I-IV | 5/17/29/41 | 120/390/600/790 | Increase melee avoidance by 10/20/30/40% |
| Sidestep I-III | 9/22/34 | 150/400/610 | Increase ranged avoidance by 10/20/30% |
| Spell Ward I-II | 9/21 | 150/400 | Increase magic avoidance by 10/20% |
| Constitution I-IV | 8/19/30/41 | 200/420/610/790 | Increase HP stat by 10/20/30/40% |
| Insight I-II | 9/21 | 170/420 | Increase MP stat by 10/20% |
| Expand Mind I-II | 13/23 | 220/420 | Increase MP restoration by 10/20% |
| Channeling I-II | 11/23 | 200/420 | Reduce MP costs by 5/10% |
| Swiftfoot I | 23 | 460 | Increase Move by 1 |
| Jump I | 23 | 500 | Increase Jump by 1 |
| Wade I-II | 11/21 | 220/420 | Allows movement through water at a cost of 2/1 Move while in water |
| Steadfast | 17 | 370 | Cannot be knocked back |
| Field Alchemy I-IV | 3/8/16/24 | 50/220/370/500 | Allows the use of more powerful/effective items |
| Tactician I-II | 15/30 | 370/630 | Increase TP accumulation by 20/40% |
Transferable
Edit
| | |
| --- | --- |
| Skill | Notes/Use |
| Spellstrike III | Increase magic accuracy by 30% |
| Sanctuary I-II | Undead units cannot (I) stop next to the unit (II) advance past the unit |
| Max TP I-IV | Increase max TP by 25/50/75/100 |
| Reflect Magic I-II | Reflects 10/20% of damage taken by magical attacks |
| Absorb MP I-II | Absorb 20/40% of MP spent by enemies on the unit |
| Treasure Hunt I-II | Improves quality of found hidden items |
References
Edit